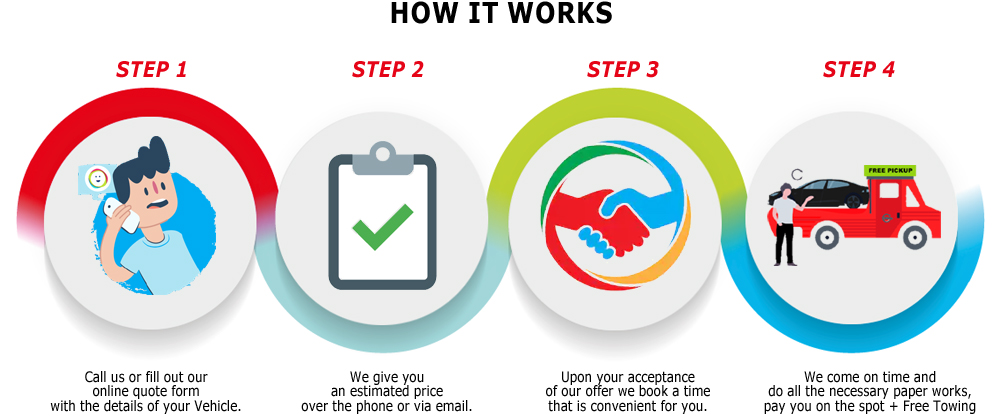 SA Cash For Cars Adelaide provides you cash for damaged cars. We offer money for your damaged cars in Adelaide. Our company admires your decision of selling a wrecked car instead of keeping it back in your garage. We initiate the cash payment at your place only. The solutions are completely reliable and enhanced by highly skilled team members. So, get your car sold and look for how it works for cash in Adelaide.
How SA Cash For Cars Works?
Have you ever thought about how it works for cash? If not then we provide you with the steps for the same. Here, we would be discussing the service for money. The Sa cash for cars Adelaide is offering the best opportunity to sell your junk/scrap car at no cost and formally get cash in return. These services also include the tow of the car, and its general recycles at our yards.
You can contact us anytime and know the need for service. We would happily solve all of your queries. Many of the people in Adelaide may find the same problem with the car where they are not getting a perfect buyer for their car. Here, we are not considering us perfect but one of the best service providers in Adelaide for cash. The overall performance is furnished well at our premises, and our team members are intelligent enough to provide reliable ways for services. So, don't miss the opportunity and know how it works. Our central theme is to provide complete satisfaction to our customer regarding cash as well as service.
Know how it works!
So, overall working for cash for cars by us is simple. So, as soon you contact us, we will look for all the queries mentioned by you. At the same time, you can ask for the related services available. Our team members will communicate in an orderly manner without any disrupt. So, the communication methods are best at our premises.
Now after proper communication, if the customer shows interest and we will surely hear from you again. You can get top cash for our car related services. Even, the customer can fix an appointment with us, and we will happily visit their location. We provide all these related services. So, don't worry about the same as we would now expect that you know how it works.
Why choose us?
The cash for cars is the best method through which you can earn good money for your scrap car.
Our process for how it works is straightforward in comparison with others.
In Adelaide, you can approach us at any time of the day, we value your interest in selling a car.
The cash will be yours after the free car valuation. We will not let make delays in that.